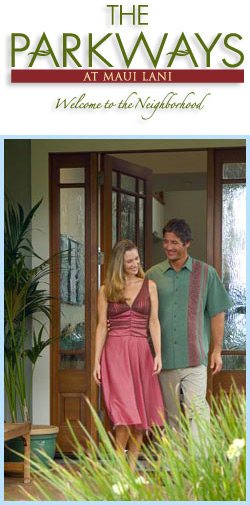 Coming soon is Maui Lani's exciting new golf course community: the Parkways at Maui Lani.
Designed to be an enclave of gracious residences beautifully suited for Maui's coveted indoor/outdoor lifestyle, the Parkways will be for residents who enjoy Maui's lifestyle at its best, from golf to gourmet dining, mall-hopping to movies, working on your career to working on the yard.
More Information
Email: info@mauilani.com


IMPORTANT
This is not intended to be, and must not be construed as, an offer to sell a home or lot at The Parkways or as an inducement, solicitation, or attempt to encourage anyone to acquire a home or lot at The Parkways. It is merely meant to provide information about a project that will be available in the future. No reservations or contracts are being solicited and none will be accepted at this time.