Whether you enjoy golf, tennis, surfing, sun-bathing, hiking, biking, music or the performing arts, there's lots to enjoy in and around Maui Lani.
---
SPORTS
The Dunes at Maui Lani has been lauded by Golf Digest as "one of the five best kept secret golf courses in America." Golfweek ranked it number two golf course on Maui and Golf Magazine listed it among the best new courses in America.
Conveniently located at the heart of Maui Lani, the Dunes course is a popular choice among recreational golfers. Its link-style design and classic ambiance pay tribute to Ireland's great golf heritage, while the pro shop staff services guests efficiently and cheerfully, with ample doses of aloha spirit.
The Dunes at Maui Lani also offers a comfortable clubhouse, the popular Cafe O'Lei restaurant, banquet room, bar and lounge, well stocked pro shop, lighted driving range, learning facility, and professional golf instruction.
Sports enthusiasts will also find it easy to get from Maui Lani to other recreational venues, including public tennis courts in Wailuku and Kahului; skateboarding ramps, sports fields and hiking/biking paths at the nearby Keopuolani Park; the War Memorial Stadium which houses Maui's primary football field and a quarter-mile track; the Iron Maehara Baseball Stadium; the County Aquatic Center's 50-meter swimming pool; numerous beaches around Maui; and excellent golf courses in Waikapu, South Maui and beyond.
In addition, many of Maui's physicians practice in Central Maui at the Maui Medical Group and numerous private offices throughout Kahului and Wailuku towns. From naturopathic, holistic, and general practice, to surgeons, dermatologists, pediatricians, podiatrists, and cardiologists, Maui Lani is within easy reach of Maui's leading medical practitioners.
---
ARTS AND CULTURE
Maui is home to a thriving community of artists, many of who have attained world renown status for their original creations and stellar performances. It's not hard to find excellent art exhibits, stage shows, concerts and other artistic events throughout the year.
For residents of Maui Lani, enjoying the arts is as easy as driving to the nearby Maui Arts & Cultural Center, a premier gathering place for outstanding art exhibits, concerts, films and stage productions. The MACC's state-of-the-art facilities range from an outdoor amphitheater and a 1,200-seat main theater to a visual arts gallery, studio theater, courtyard and meeting rooms. The center has hosted countless entertainers of local, national and international fame, as well as shows by community-based organizations including the Maui Symphony, Maui Academy of Performing Arts, the Maui Film Festival and various hula halau.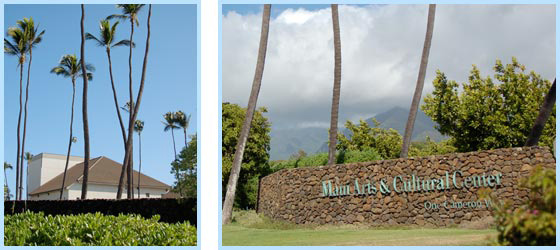 Those who appreciate history should visit the award-winning Alexander & Baldwin Sugar Museum, located in historic Puunene Town in a century-old plantation building. The Bailey House Museum in Wailuku showcases Hawaiian culture, artifacts, paintings, and furnishings from nineteenth-century Maui. Outdoor enthusiasts can gain a greater appreciation of the islands' environment at the Hawaii Nature Center in Iao Valley, where visitors enjoy interactive displays and rainforest walks. The Center is located next to the Kepaniwai Heritage Gardens and near one of Maui's most popular attractions, Iao Valley State Park. All are approximately a 10 to 15 minute drive from the Maui Lani community.
---
PARKS
Incorporated within the Maui Lani community are family-friendly neighborhood parks where residents can toss around a ball, picnic and enjoy being outdoors. Coming soon is a much larger 26.5 acre regional park located near the Pomaikai Elementary School.
Within minutes of Maui Lani's main entrance is Keopuolani Park, a 101-acre county park with pedestrian paths, sports fields, playgrounds, picnic tables and ample space to run about.