Traditions at Maui Lani opens
Grand Opening planned for seven new model homes near Pomaikai Elementary
Kahului, Hawaii (September 1, 2010) - Maui Lani is launching its newest single-family community, the Traditions at Maui Lani, with a public grand opening of its model homes scheduled for Sunday, September 12.
Located on Kamehameha Avenue across from Pomaikai Elementary, the Traditions at Maui Lani encompasses fee-simple home packages and an 18,000 square foot neighborhood water play park. The project has recently completed seven new model homes that will be showcased at a public grand opening on Sunday, September 12, from 10 a.m. to 4 p.m.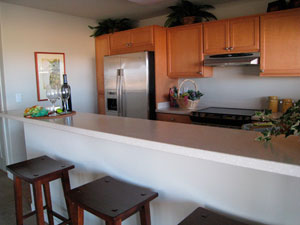 The Traditions will be offering a selection of one- or two-story homes, with covered lanais and as many as 4 bedrooms. One of its more distinguishing characteristics is the position of the garages, located to the side or rear of the home.
"The positioning of the garages is a forward-thinking design concept that dramatically enhances the visual appeal of the neighborhood," said Alvin Takahashi, principal broker at Hawaii Pacific Properties, LLC. "Instead of a road that's broken up by driveway after driveway, garage door after garage door, you can have a very inviting streetscape with paved sidewalks, trees and pleasant front yards."
Takahashi noted that the community is particularly suitable for first-time homeowners as well as people looking to "right-size" their homes.
"The Traditions was designed to be an attractive option for young couples looking to buy their first home, and we've also received preliminary interest from semi-retirees who would like to downsize their home and live in Central Maui, close to the hospital, doctors' offices, stores and other conveniences," he said.
The model homes were constructed by 3D Builders. Some of the included features of the Traditions' homes are:
Central air conditioning
Solid wood cabinet doors
Silent Floor System on all two-story models, which prevents unwanted floor squeaks
Baseboards and kickboards on stairs, which enhance the attractiveness of a home and prevents damage
Custom clay colored dual glazed window and soffits made of grooved plywood, which enhance the attractiveness of a home
4-1/2" thick foundation, which adds strength to the entire structure and is thicker than in many other homes
Solid surface countertops with undermount sinks
Solar water heating
Garages finished with textured and painted drywall
For more information about the project or the public grand opening, contact Hawaii Pacific Properties, LLC, at alvin@hawaiipp.com or 242-5400.